Posted on 10 July, 2011
We got some shows coming up; the first one will be at Ingbofestivalen in Tärnsjö the 13/8. Will be a good one, don't miss!
A week after that, the 20/8, we shall play at the CH STEAKHOUSE in Söderhamn. Hope to see you there.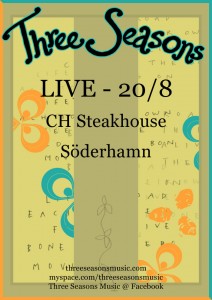 At these shows, you'll also get the chance to buy the vinyl edition of Life's Road which will be here soon! You can also get it by mailing contact@threeseasonsmusic.com and we shall return to you as soon as we have the necessary info.