Posted on 2 March, 2011
Three Seasons releasefest för albumet Life's Road kommer att äga rum på Rockland i Sala, fredagen den 25 Mars. Insläpp från klockan 21:00. Kom ihåg: 18-års-gräns, och endast förköp!
FÖR BILJETTBOKNING:
Sätt in 80 kronor på clearingnummer 6534, kontonummer 625 742 192, märk pengarna med ditt fullständiga namn samt ditt sexsiffriga personnummer.
Exempel: Andreas Jansson 850325
Glöm inte att förboka, inga biljetter kan köpas i dörren!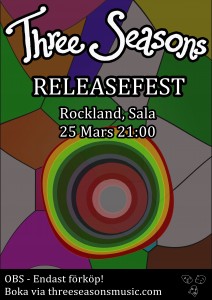 Three Seasons album "Life's Road" släpptes under senvintern 2011 i samarbete med Transubstans Records. Den nio låtar långa skivan har blivit väl mottagen och bl. a. fått betygen A från Metal Army America och 19/20 av franska Métal Intégral.
Releasefesten för Life's Road kommer att hållas på Rockland i Sala. Fredagen den 25 Mars är datumet som gäller. Flera gästartister som också medverkat på skivan kommer vara med oss under kvällen. Det kommer också vara specialpriser på skivor och merchandise. En mycket trevlig kväll utlovas!
The Three Seasons album "Life's Road" was released late winter 2011 together with Transubstans Records. The nine-tracker has been well recieved, getting grades such as A from Metal Army America and 19/20 from French site Métal Intégral.
The Life's Road Release Party will be held at Rockland in Sala, Friday March 25th. Throughout the evening, many special guest artists will join us on stage, musicians who have also performed on the record. There will also be special prices on CDs and merchandise. A splendid night is guaranteed!