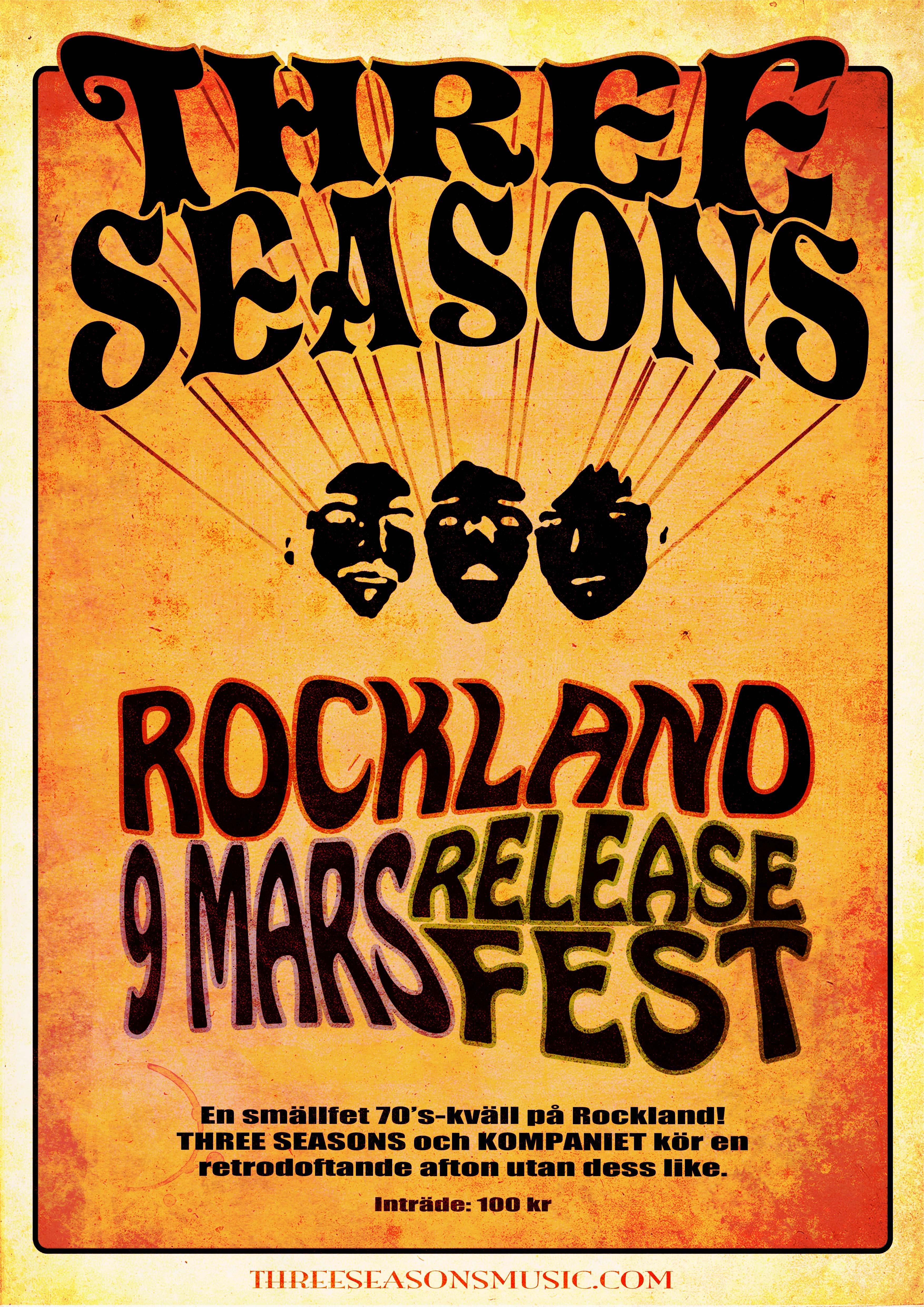 Svängigt, blytungt och flummigt blir det garanterat när THREE SEASONS den 9 mars kör releasefest för senaste albumet "Understand The World". Festen hålls på det anrika Rockland i Sala, och när dessutom support ges av formidabla tiomannabandet KOMPANIET så är detta förstås en kväll man inte sitter hemma på. Bägge banden spelar musik som för tankarna till sent 60-tal, tidigt 70-tal, och ihop med den passande inramningen från Rockland blir det här nog så nära the good old days som det går att komma.
Three Seasons har redan innan det senaste släppet skördat stora framgångar: de har flera gånger synts i två av nordens största musiktidningar, Close-Up Magazine och Sweden Rock Magazine; två gånger om har debutalbumet tagit sig upp på Sverigetopplistan; de har jämförts med band som Deep Purple och Led Zeppelin och flera gånger har deras album kallats för årets bästa; de har gjort en lång turné i Spanien som av såväl fans som kritiker var mycket uppskattad. Och så vidare. Senaste plattan har inte gjort någon besviken, tvärtom: den har bl a tagit sig upp på plats 16 på officiella hårdrockslistan, flera gånger om fått suveräna betyg och av många utsetts till en av de allra bästa skivorna under hela 2012. I April och Maj kommer ytterligare en utlandsturné göras, men innan dess ska alltså en releasefest för den senaste plattan (som självklart kommer finns på såväl vinyl som CD) hållas.
Biljetter säljs på plats för 100 kr, men vill man vara säker på att komma in är det bäst att förboka! Maila contact@threeseasonsmusic.com för mer info om detta.
Lyssningslänkar:
http://open.spotify.com/artist/39UJuxgqaUNZV10CufaBCp
http://www.threeseasonsmusic.com/
http://kompaniet.bandcamp.com
http://open.spotify.com/album/7cZ4ryLYzVK1AE14CtEMDN
Ett par citat från media:
"Best album of the year? Grade: 7 of 7 " – Metalnews.DE
"Det jag hör håller högsta klass inom den nygamla rocken och då kan det inte bli annat än full pott! Betyg: 10 av 10" – Artrock.se
"MASTERPIECE – Grade: 10 of 10" – Metal Temple

"Three Seasons are better than Deep Purple has been on many of their albums" – Proggnosis
Three Seasons har som synes väckt stor uppmärksamhet i utlandet, och 9 Mars får alltså hemmafolket en chans att uppleva bandets enda liveframträdande i Sverige innan det återigen är dags för dom att sticka ut på utländska vägar igen. Detta är inget man missar!