Posted on 25 November, 2011
Coming up the 10th December is a Three Seasons gig at Hellbar in Sundbyberg! The extensive info is available at the Facebook event. The night will also have the band New Keepers of the Water Towers playing. Sure to be a splendid evening – hope to see you there!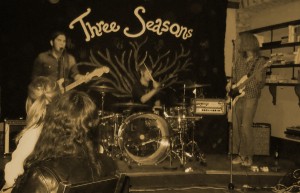 Picture from the show at Queen Victoria earlier this year
Be sure to remember the upcoming Escape 7″ as well! Click here to enjoy a part of the music on this record!